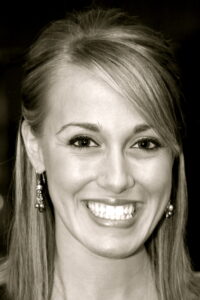 My intern Lora, who has posted here before about her internship and graduation experience is moving on to launch her full time career with Target Corporation.  On paper it sounds like a fitting end to an internship. Graduate from college.  Extend the internship through summer.  Walk into work at one of the most respected and progressive Fortune 500 companies on the planet with a full time gig.  Just like we planned. Not exactly …Lora was treated to a very unusual internship experience no doubt – hanging out with me during the start of Ryan Estis & Associates didn't afford much structure and protocol (although we managed to have a little fun). And her transition into the big corporate gig wasn't a walk in the park.  Through it all she had a great attitude!  And I think that is part of the point.  Show up.  Contribute.  Smile.  Give a little extra.  And when it isn't easy or exactly what you want it to be, keep going.  That is part of the journey.  Lora had this part down and because of her attitude, extra effort and preparation when opportunity presented itself she is walking through the doors at Target Corporation this morning.  I asked her to offer one farewell post specific to her transition into full time employment.  The post follows.  Congratulations Target!  You are lucky to have Lora.
When college was nearing an end, all I hoped for was a smooth transition from graduating to getting a full-time job. Turns out only a select lucky few of my peers were able to make that happen. In my case, anxiety reached an all time high when my internship would end in a couple of months to when I was going to be able to land a good job.
My path to successfully finding a full-time job began a little over a year ago when joining Ryan Estis & Associates. I started a marketing internship with Ryan and learned much more than school could ever teach. The opportunity prepared me for life after college. With the internship I was able to gradually gain responsibility from doing administrative duties to being more involved in client projects on a day-to-day basis. This not only prepared me for responsibilities unknown to college students, but also helped me gain the confidence I need to be successful at whatever I do.
When it came time to start looking for a job, I was able to proudly write and send out my résumé with all that I have accomplished. It still wasn't enough. Although the job market is getting better everyday, it was tough to even get that first interview. Then I decided to use Job Search 2.0 strategy. I have always admired Target Corporation and know many people within the company. I had been applying at Target for months, for as many positions as I was qualified for. Even my sister, who has been employed with Target for numerous years, referred me and that still wasn't enough. Then, one day my friend gave me the name of a Target recruiter. I emailed the recruiter my résumé and talked about the position I was interested in at Target, asking for any advice she had to obtain an informational or actual interview. The recruiter ended up calling me and interviewed me over the phone. She thought I was a great candidate and invited me to headquarters for a second and third interview with two different people.  The interviews actually went extremely well and to my surprise, the recruiter called me the next day and offered me the job. This may seem like a fairytale ending, and to me it is, but it was no walk in the park to get where I am today.
My best advice is to take every opportunity to learn and experience more, accept challenges, be prepared, and intern in college, even if it is unpaid. I held a total of three internships plus part-time jobs through college, and although it was hard at times, I would do it all over again. I am exceptionally thankful for everyone involved in my internships and now feel ready for this new transition into my first full-time position!