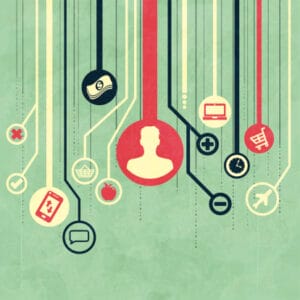 What do your customers look like today? Have you considered what they might look like in 2020?
Your customers are changing. Increasingly, millennials (members of Generation Y — loosely defined as anyone born between 1980 and 2000) are having a major influence on buying decisions, at work and in the home.
Millennials include teenagers and adults in their 20s and early 30s. Gen Y is growing up, having kids and spending money. Forbes notes that every day, 10,000 millennial moms give birth. If you think of Gen Y as financially dependent "kids," it's time to update your stereotypes. According to Accenture research, the 80 million millennials in the U.S. spend about $600 billion every year. By 2020, millennials are projected to spend $1.4 trillion annually, representing 30 percent of total retail sales.
Millennials are your customers — if not today, then soon. You can't afford to ignore this very powerful and relevant demographic.
Millennial customers are different than Gen Xers and baby boomers. To effectively reach and communicate with Gen Y, you have to understand them. Once you understand your buyer, you can start to shape your sales strategy to meet their expectations.
5 Keys to Selling to Generation Y:
1. Treat them like VIPs.
Millennials want to feel special. They've grown up in a world of instant gratification where everything is customizable. They want it their way. Now. Whether they're buying sushi, a cell phone or enterprise software, they expect you to step up and deliver.
That means you'll need to understand each prospective buyer and tailor your message accordingly. If that sounds impossible, think again. There's more information available to you than ever before. You have an encyclopedia of information about your buyers at your fingertips, and it all starts with a simple Google search.
For inspiration on customizing your pitch, product and sales experience to individual buyers, take a page from the playbook of category-leading, premium brands. If a company with as many moving parts as Ritz-Carlton can make every customer feel unique and valued, you can, too.
2. Embrace technology. Your buyer does.
To sell to millennials, you need to understand and leverage technology. According to this Entrepreneur article and infographic, "the average millennial spends 18 hours a day consuming media – often multiple forms at once. These forms are completely different from those favored by prior generation. For example, the average millennial checks his or her smartphone 43 times and spends 5.4 hours on social media per day."
Traditional sales tactics don't cut it and often only annoy and alienate this generation (cold-pitch voicemails piss off Gen X, too). To connect, you're going to have to explore a more progressive approach. Online content. Social media. If these new tools are intimidating for you, start slowly. You don't have to be on Tumblr and Instagram and be an avid Snapchat user all by next week. But if you were, you'd have a big advantage!
We're at the start of a revolution. If you're running behind today, you could be irrelevant tomorrow. At minimum, show up where your customers spend their time and access information, and determine how you can have an active and helpful presence.
3. Make sure your product and pitch are relevant for 2014.
How has your product, service or solution evolved?  How are you telling your story?
Jamie MacGregor, senior vice president for insurance practice at Celent, a financial-services research and advisory firm, shares this advice for insurance companies: "Insurers need to create flexible, short-term, low-cost products, MacGregor says, such as policies with 'on-and-off switches' that can be suspended rather than canceled by a policyholder between jobs who can't make premium payments."
The message is clear: Update your solutions or suffer the consequences of offering antiquated products that this generation is going to put off buying — or permanently ignore.
Even if you don't work in insurance, you'd be well-served by taking a step back and considering how buyers perceive you. Does the value proposition that worked for Baby Boomers resonate with Gen Y? Then, consider how you tell that story. Per MacGregor's advice, fear and intimidation are tactics that just don't fly with millennials. Instead, focus on the benefits you're bringing them.
4. Be authentic.
According to generational expert and keynote speaker Seth Mattison (a millennial himself), authenticity matters most: "No matter what channel you choose to engage with millennial buyers, your communication has to be authentic. Here's why: Gen Y is the most advertised-to generation in history. They're immune to quick pitches. Add in all that they've witnessed in the past decade — the economic meltdown, domestic surveillance programs, etc. — and you get a complete erosion of trust. Millennials are skeptical and tech-savvy. They will fact-check every claim that comes out of your mouth. They might even do it when you're standing in front of them."
Salespeople are on the front lines dealing with that lack of trust. Seth's advice is to keep it real: "The worst thing you can do is get defensive or try to sneak anything by a Gen Y buyer. Lead with authenticity. Be more human. Be quick to empathize. Follow these rules whether your communication is digital or face-to-face."
When you're communicating with any client, you should default to the communication style, method and schedule that makes them most comfortable. How do you know how your customer prefers to communicate?
Ask.
To connect with Gen Y customers (or customers of any age, really), we have to stop interrupting and start communicating differently. In this video, Seth and I talk about this communication revolution and share practical advice for "meeting people where they are, without losing who you are."
5. Find your meaning.
Why do you sell what you sell? If you're in it just for the money, that might prove to be a problem. For millennials, meaning matters.
According to generational expert and writer Samantha Massaglia, this generation wants to live their lives with purpose: "Research indicates this sentiment is shared by millennials everywhere. For example, in 2011, a report was commissioned by the Career Advisory Board. It found that what millennials most want from their career is a sense of meaning, which the study defined as 'the degree to which we feel our lives have purpose, value and impact.'
"This is a significant change from studies several years ago. At that time, millennials listed happiness as their top priority. Since then, as a result of events like the Great Recession, they've decided that they are more interested in building an equitable world.
"Sociologists say that prioritizing meaning over happiness is significant, because happiness is self-oriented, while meaning is other-oriented. So, millennials deciding to focus their energy on meaning instead of happiness means the biggest generation in history has decided to dedicate itself to helping others."
If you're selling to millennials, it's important to understand your own sense of purpose. Stop thinking about the transaction and focus, instead, on helping your customer. Demonstrate why it matters. That goes a long way toward building a partnership.
I'd also recommend listening carefully to customers and learning from their behavior. If customers aren't connecting with your product or the experience you offer, consider why and what you can do differently.
For example, recently McDonald's Global Chief Brand Officer Steve Easterbrook said in an interview, "the millennial generation has a wider range of choices than any generation before them," and added, "millennials are promiscuous in their brand loyalty. It makes it harder work for all of us to earn the loyalty of the millennial generation."
Perhaps. Or more likely, this generation simply expects more. McDonald's has a Millennial problem, reported The Wall Street Journal earlier this year, saying millennials "are defecting to competitors, in particular so-called fast-casual restaurants like Chipotle Mexican Grill Inc. and gourmet-burger chain Five Guys Holdings LLC. Increasingly, younger diners are seeking out fresher, healthier food and chains that offer customizable menu options for little more than the price of a combo meal."
The bottom line: Your customer is changing. Keeping up is hard work, but that's exactly where the opportunity exists. If you want to remain relevant in 2020, you'll need to understand how customers are changing, anticipate their future needs and deliver an experience customers value.
Ryan Estis helps progressive companies embrace change, attack opportunity and achieve breakthrough performance. Delivering more than 75 live events annually, Ryan provides high-impact keynote presentations and professional development in partnership with the world's best brands. Learn more about Ryan.