>
>
>
>
The Free Burrito & My Restaurateur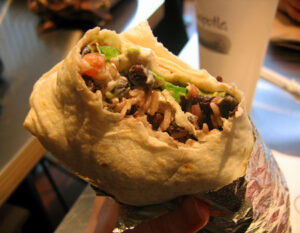 Prompted recently by a little healthy dieting competition with my brother (inspired by The 4 Hour Body) Chipotle started to become part of the lunchtime plan.  I soon realized the power of the Chipotle Tribe.  By 11:45 on any given day the Chipotle on 225 East Hennepin Ave. has a line out the door.  But this crew deals.  Good food.  Fast.  They also embrace a serious, service oriented attitude.  I noticed right away.  Something you don't always see on the fast food line.  This crew was in lock step. Two weeks ago I placed my order (very light on the Guac).  The Manager asked the Cashier not to charge me extra for the Guac.  A thoughtful touch for a regular customer.  However, the Cashier was having a bit of trouble. Upon noticing this might hold me up, the Manager simply said don't worry about it, lunch today is on me.  Bravo!  A Free Burrito! Now I am a fan. I have been back 3-4 times since Free Burrito day.   Yesterday I asked to speak to the Manager.  I wanted to meet Megan.
Megan Grothe has been with Chipotle for 8 years.  She explained to me that she wasn't simply the General Manager, she was a Restaurateur, a category designated for a small group of evaluated and accredited all star leaders (a program Chipotle started to improve retention among it's best talent).  She told me about the "love" she has for her job, her team and the organization.  A big part of that was grounded in the intersection of her own values with the Chipotle corporate values (a commitment to integrity, sustainability and the way the company treats it's people).  When I inquired about the Free Burrito she simply said to me that providing a bad experience for any customer isn't worth it.  She wants me to "feel the WOW" and keep coming back.  She recognizes I have a choice and she wants Chipotle to be top of mind come high noon everyday.  This approach and attitude is part of her team development initiative and she makes certain it is delivered on the line at the moment that matters. Sounds simple but it's so often overlooked.  Hire the right people.  Invest in them.  Develop them.  Communicate a shared vision and values.  Treat them right. Give away a Free Burrito when it counts. Does this strategy work?  This whole idea of put your people first and profit follows? Click here to review the most important metric.  Whether you are in HR, Sales, Marketing or Leadership. This is the one that matters.  CMG is knocking it out of the park. I love Chipotle.  Not just any Chipolte.  But my Chipotle.  The Chipotle on 225 East Hennepin Ave. just outside of my neighborhood in Minneapolis.  On this corner of Hennnepin & University sits plenty of good options for lunch. Panera.  Punch Pizza.  Bruegger's.  Surdyk's.  Lund's. I will be heading to Chipotle for lunch today.  With my Restaurateur Megan and her team. Just don't ask me how the diet is going! Thank you Megan.
Ryan Estis is a Keynote Speaker & Management Consultant blogging about business performance.