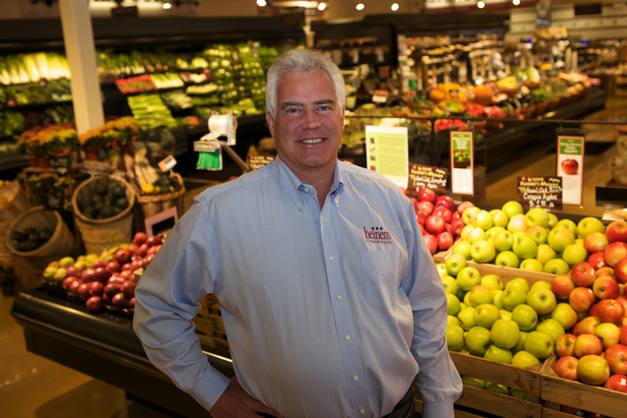 Tom Heinen is co-owner and operator of Heinen's, a third-generation, family-owned (and much-loved) grocery store based in Cleveland, Ohio. Heinen's has 18 stores across Ohio and, now, Illinois. The company has developed a world-class culture by focusing on people over profit, being transparent and generous, and trying to make a difference in the lives of those they serve. I spoke at Heinen's annual service recognition awards this year and I was blown away by the company's strong culture and the commitment of their employees. I sat down with Tom Heinen to learn more about the history and guiding principles of the family business.
The booming business that Tom and his brother Jeff run today started a long time ago. Tom's grandfather, Joe Heinen, opened his first store in 1929. He had come to Ellis Island as a baby, and at age 26, in the depths of the Great Depression, he left his job working in a butcher shop and opened his own store, where he could test his new ideas. As the stories go, there were hundreds of people lined up looking for work. Many people couldn't pay. Joe made trades — food for work — and started his family's deep connection to the community.
Over the next fifty years, Joe Heinen opened a bigger market, then more and more stores, became the first store to sell pre-packaged meat so that customers didn't have to wait in line at a butcher counter, and introduced the concept of a one-stop supermarket to the area. He was an entrepreneur ahead of his time.
Winning with products and people
By the time Tom and Jeff Heinen took over in the early 90s, the industry was changing — fast. Customers had higher and higher expectations, along with an expanding knowledge of food. The brothers knew that they needed to formalize the company's management processes and focus on developing the next generation of leaders.
When they developed the company's strategic plan, Tom and Jeff chose to focus on their long-time strengths: products and people. They knew they couldn't beat the big chains in every product category, so they picked the products where they wanted to be the best, like produce, meat, seafood, wine and beer and wellness. Second, the Heinen's team knew that their people were their strength. Shoppers associated Heinen's with friendliness and helpfulness. So, they knew that customer service would be a differentiator.
Instead of trusting that the company's reputation for customer service would remain strong on its own, Heinen's doubled down on customer service training, teaching employees four steps to creating customer intimacy:
Be crazy friendly.

Be helpful.
Share your knowledge.
Be invaluable.
Employees are expected and encouraged to learn everything they can about Heinen's products — not necessarily so that they can upsell customers, but so that they can share helpful information with shoppers. Tom wants every employee to strive to become a "trusted foodie," sharing product benefits, food pairing ideas, and unique qualities of Heinen's thousands of products. Heinen's knows that its customers are more knowledgeable about and interested in food than ever before — and they have more questions. By learning and sharing about their food, Heinen's people are meeting customers where they are. Fast, friendly service isn't enough anymore — customers expect food experts. The end goal of all of this education and expertise: to become so valuable to customers that, even if a new grocery option opened, they'd never think of leaving Heinen's. "Our customers trust us," Tom says. "We've built that brand equity over many, many years of treating them right and being honest with them."
Heinen's people-first philosophy acknowledges that its employees are the linchpin of its success. The strategy: make sure every employee loves working at Heinen's. If that happens, everything else takes care of itself. Tom tells employees in training: You're our marketing, customer service, and product inspection department. You're everything to Heinen's.
Being a steward of the business
Beyond a dedication to products and people, Heinen's feels different because of its history. The company's leadership is focused on improving the business and honoring the legacy that came before them. The Heinen family sees themselves as stewards of the brand. Tom put the company's focus this way: "We don't measure success by how much money we make. We measure success by making enough profit to re-invest in the business. We invest in people first, then in facilities and technology." For Heinen's, money isn't the goal or the destination. It's fuel for the business. Tom and Jeff Heinen aren't trying to grow their family company so that they can sell it and put their feet up. They're working every day to leave the business better than they found it. That sense of honor and tradition comes through when you talk to Heinen's customers and employees.
Heinen's focus on products, people and legacy makes an impact. My mom, like many others in Cleveland, has been a fiercely loyal Heinen's shopper for 30 years. I recently read an article on the blog Cleveland Foodie where the author names being close to a Heinen's as a top consideration in her house search. Focusing on quality, whether it's quality products, customer service or stewardship, is a winning strategy in 2013, just like it was in 1926.
Ryan Estis & Associates is a training and development organization helping companies, leaders, sales people and individual contributors embrace change and achieve breakthrough performance in the new economy. We offer keynotes, live classroom training and online learning that blends interaction, energy and actionable content designed to elevate performance. Contact us for programming inquiries and assistance determining the curriculum that could best support your learning and development objectives.