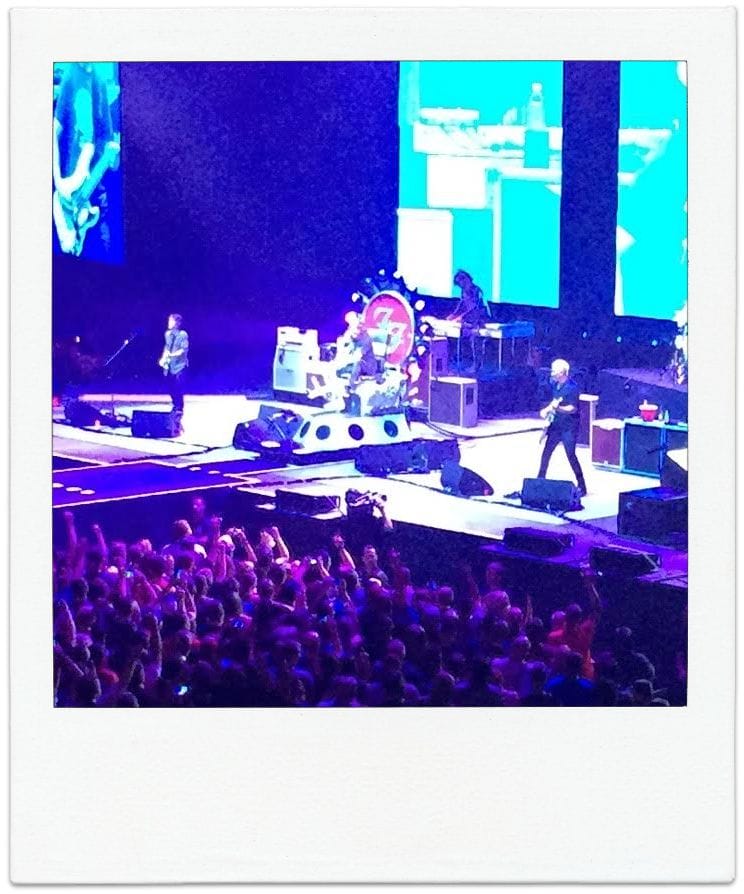 I love live music. For my money. seeing a great live show is the best form of entertainment on the planet. That's why I was bummed out when I heard Dave Grohl broke his leg falling off a stage in Sweden on June 12.
In a truly epic, rock star move, the Foo Fighters front man finished the show.
However, the broken leg surely meant a whole bunch of remaining tour dates would be cancelled, including last Saturday night's performance at the Xcel Energy Center in St. Paul, Minnesota. I was hopeful I could catch them on the reschedule, the next time around.

VIDEO: Dave Grohl breaks his leg during show in Gothenburg, Sweden – YouTube
The Show Must Go On
Not so fast. After a brief recovery period, the band decided to press on with their summer tour. It was going to be a big adjustment for a band that had earned a reputation for playing aggressive live shows with their lead singer setting the pace. So they decided to have a little fun with this new challenge. During his down time, Dave sent a sketch to his sound guy with a vision for building a "chair" that could elevate the performance and still provide fans with the kind of Foo Fighters show they were expecting.
When the lights went down on Saturday night, I wasn't sure what to expect. Two minutes into the show, I knew we were in great shape. The chair, or "throne" as the band called it, provided an elevated extension for Dave's injured leg, surrounded by necks of guitars on the side and a circle of lights and Foo Fighters logo. The throne electronically rolled the lead singer up and down a runway extending from the stage so he could still rock in the center of the sold out arena.
The Fan Experience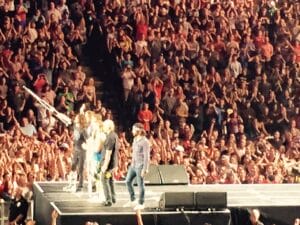 And rock they did, for nearly three hours. I got the sense they were making a real effort to make up for the fact that Dave wasn't able to move around in his typical front-man fashion. It was a different experience, no doubt. But they delivered a great show. He took the time to talk us through his busted leg, the band's decision not to cancel the tour and the creation of his special throne.
He also offered us options. "Want to see a slide show of the busted leg or do you guys just want to keep rocking?" The fans wanted to rock and so he obliged, throwing in Van Halen and Rolling Stones covers for good measure. "You want more? Cool…we can go all night. You are about to get the longest show of this tour!"
It was very clear they were committed to delivering a killer experience for the fans and it was also a great lesson in performance art. As an artist, you adapt to the situation, stay connected to the audience, and step up to deliver no matter the circumstances. I got a good sense that this isn't a band that ever mails in a performance. "Break a leg" just took on a whole new meaning. Lesson learned.
Adapt To The Circumstances
Grohl said in a recent USA Today article that he "'was kind of excited that every day was going to be a challenge and we were going to wind up not knowing what to expect. It was going to change our process a little bit and make the next three to four months an adventure.' The rest of the band is embracing the challenge, too. 'We will learn how to play differently,' says drummer Taylor Hawkins. The strobe light-enshrined throne the Foos' crew built for Grohl to sit on during shows has a rear-view mirror so he and Hawkins can see each other, an important part of the band's onstage communication."
"Hawkins says, 'We are going to make lemonade out of lemons. I think people who come to these shows, if they are real fans, will say, "I was at one of those Dave broken leg shows, and it was great and Dave was rocking just as hard as he ever rocks." And he will.'"
Any organization that wants sustainable success has to embrace change, constantly reinvent amid changing circumstances and take some calculated risks that push people directly out of their comfort zone. Bold, visionary leadership is required.
And make no mistake Dave Grohl is the CEO of a thriving enterprise in it's 20th year of existence known as the Foo Fighters. He also happens to be the president of Roswell Records, one of his side gigs. He adapts, evolves, adjusts and has dealt with incredible personal and professional adversity. For a closer look inside the band's epic journey to where they are today, I highly recommend the documentary Foo Fighters: Back and Forth.
Have Fun
It was also pretty clear on Saturday night this band is still having fun and seems genuinely grateful for the opportunity to do what they love at the highest level. It was a bit of risk rolling out in a mechanical chair and no doubt, they had to anticipate that a bit of criticism could be forthcoming. This is also a band with a reputation for being serious about music, but not taking themselves too seriously.
Last Friday night, their Kansas City concert was being protested by Westboro Baptist Church. The band decided to arrive at the Sprint Center in the back of a pickup truck, clapping and blasting "Never Gonna Give You Up" next to protesters.

VIDEO: Foo Fighters Rick Roll Westboro Baptist Church  YouTube
The Foo Fighters held up signs of their own, which read, "You got Rick Roll'd again," and "Keep It Clean," and fans loved it, of course. Rock on!
Ryan Estis helps companies and individual contributors embrace change and achieve breakthrough performance. Each live event blends original research with compelling stories that move participants to take action. Ryan has 20 years of business experience working with the world's best brands to initiate change, inspire innovation and deliver growth. Learn more about Ryan Estis.
Ryan Estis is a Keynote Speaker & Management Consultant blogging about business performance.