"Is there any way you can get me home tonight? Please."
The travel agent replied, "We can try, Mr. Estis. Is everything okay?"
She could hear it in my voice. I simply told her, "I think so."
Everything should have been just fine. I was on a roll. It was Sunday night, and I had just delivered my third keynote in four days and closed out one of my best months ever. There was no crisis or immediate concern. On the outside looking in, I was living my dream. But suddenly, something didn't feel right.
My conference kick-off keynote that night was great. I could feel the energy in the room and had great conversations after it ended. I got back to my room around 7:30 p.m. and started to settle in. It was an evening keynote and there weren't any good travel options out of Phoenix heading east that time of night, so I was scheduled on the first flight in the morning. I picked up the room service menu, turned on ESPN and a wave of anxiety started to rush over me. I couldn't shake it.
I looked around the room. My half-packed suitcase. The TV screen. The double beds. I started to feel isolated. The idea of another room service dinner, alone with my laptop, was making me feel nauseous. After weeks of non-stop travel, I hit the wall.
"I'm sorry, Mr. Estis. The only option is the red eye. It gets you home just after 5 a.m. but that flight is on another airline. It would require you to purchase a new ticket and it's really expensive."
I didn't hesitate. "I'll take it."
If you live in hotels and airports for a living, like I do, chances are you've been there. Exhilarating at first, a work life lived constantly on the road can, at times, be a lonely experience. It also takes its toll on the way you spend your time. Most road warriors I know aren't out enjoying the nuances of every new city they get to "see." In fact, it's usually exactly the opposite. Most of the time, we're working well into the evening in a hotel room or bar and after a while, every city starts  to look basically the same. The hotel rooms and lobby bars in the Hyatt really don't change much.
Long before my little Sunday evening meltdown, Lynn and I had discussed making an adjustment to our summer schedule. We've been pressing hard this year and the idea of scaling back to a four-day work week was appealing for several reasons.
First, we need to make the time to work on our business and not just in the business. It's a challenge that every small business owner knows well. The next iteration of a small business rarely comes from doing the work. You have to devote some time and thought to the design. I have a vision of quiet, relaxing Friday mornings with a good cup of coffee and a notebook, watching the sunrise while I reflect and record a few random thoughts. Sounds good, right?
For the rest of the summer, I'm turning that vision into my Friday morning reality.
Second, we need to make the time to not work at all. There's a very real reason why people increasingly hate work.
"The way we're working isn't working. Even if you're lucky enough to have a job, you're probably not very excited to get to the office in the morning, you don't feel much appreciated while you're there, you find it difficult to get your most important work accomplished, amid all the distractions, and you don't believe that what you're doing makes much of a difference anyway. By the time you get home, you're pretty much running on empty, and yet still answering emails until you fall asleep.
Demand for our time is increasingly exceeding our capacity — draining us of the energy we need to bring our skill and talent fully to life. "
In Minnesota, we only get to enjoy a few months of nice weather a year. A Minnesota summer is meant to be embraced! I'm looking forward to long rooftop lunches that lead right into happy hour, day runs through Mill Ruins Park and afternoons lounging on Lake Minnetonka with friends.
For the rest of the summer, I'm turning that vision into my Friday afternoon reality.
The pace and psychological price of entrepreneurship can be high if we let it become all-consuming. A few years ago, I would've considered the idea of a four day work week "going soft." But actually, I'm finally starting to learn how to succeed. Living a complete life is about a whole lot more than work.
TGIF! Our four day weeks start now.
—
For small business owners looking for more ideas on how to grow, I'm heading back to my hometown of Cleveland, Ohio this week to spend the evening with COSE as part of their Think Spot Keynote Series for small business. The event is Thursday evening, June 12 from 5:30pm – 8:30pm and is open to anyone! Register here.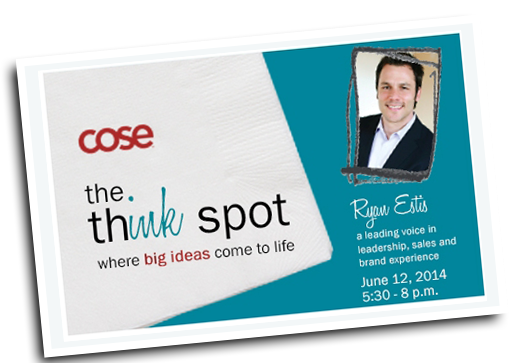 Ryan Estis helps progressive companies embrace change, attack opportunity and achieve breakthrough performance. Delivering more than 75 live events annually, Ryan provides high-impact keynote presentations and professional development in partnership with the world's best brands. Learn more about Ryan.