2014 is almost here. What have you been putting off? Where do you want to be in your career at this time next year? I've been talking through my career transformation story — getting unstuck and getting real about career transition. Another important part of my path toward success was getting help.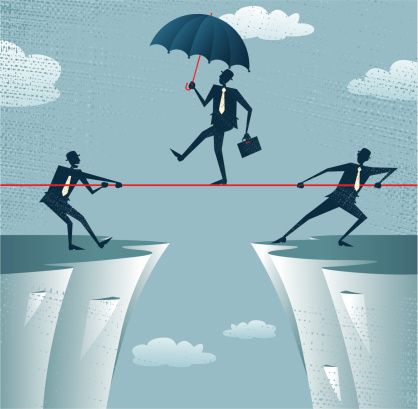 Change is hard, especially when that change moves your career from stability into the unknown. For me, having a support system of friends, family and mentors was absolutely essential.
I know that the people I spend time with have a monumental impact on my attitude, perspective and ideas. The people around me influence how I experience the world. So, when I started my transition, I also started tightening up my circle of trust. I surrounded myself with people who believed in me and were interested in supporting my transformation.  It turns out, most of them were interested in a transformative journey of their own.
Not everyone was supportive. The economy was crashing and I was leaving a stable job to start a new business.  That was hard for people to understand. When you embark on a transformation journey, be prepared to meet the cynics and critics. I would simply acknowledge them and move on. Keep in mind, you aren't stuck when you commit to making meaningful change.
I've also learned how to ask for help when I need it and I've received more than I could have imagined from places I never expected. Friends. Family. Mentors. Customers.
Collecting a few new friends on your journey can be invaluable, too. Just the experience of meeting new people and cultivating new, meaningful relationships can help shift your perspective. Hands down, the most valuable part of my career transformation has been the people I've come to know along the way. Look for people who are doing the kinds of things you want to do. Seek out opportunities to get involved in your industry and expand your network. Associations, forums and networking events have never been easier to access.
I've also learned how to select and leverage good partners. Poor decisions about people and partners almost sunk me in the beginning. Today, people decisions are accelerating my company's growth. I've learned to concentrate on my core strengths. Beyond that, I've built out a team of people who work hard growing and  improving my business. Building a team of partners has enabled me to narrow my focus on the things that are most important to my customers.
Anyone who is hungry and willing to hustle has an abundance of opportunity to make new connections and find resources. We have unprecedented access to information and learning. Because of that access and opportunity, this is an exciting time to make a move and start something new. 2014 is the perfect time to embark on a career transition.
Ryan Estis & Associates is a training and development organization helping companies, leaders, sales people and individual contributors embrace change and achieve breakthrough performance in the new economy. We offer keynotes, live classroom training and online learning that blends interaction, energy and actionable content designed to elevate performance. Contact us for programming inquiries and assistance determining the curriculum that could best support your learning and development objectives.