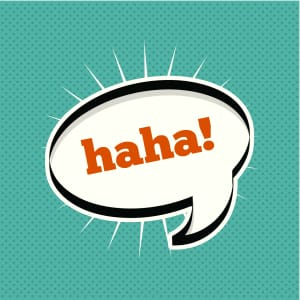 The bar was open and the cocktails were flowing.
As I moved through the crowd, it looked like it had been going on that way for some time. The sun was setting behind the outdoor pavilion and I was approaching the stage for my sound check.
Testing. 1…2…3…
The meeting planner introduced herself and asked if I needed anything.
Then she hit me with this question:
"Ryan, are you funny?"
I paused. Then replied, "Well…I'm not a stand-up comedian."
I could see the disappointment all over her face. Turns out, the two previous years they actually did have a professional comedian in this one-hour evening time slot. However, the new association chair felt that closing the day with a solid business-focused keynote would serve members better. Forget about the fact that most of the members were deep into the happy hour celebration.
She continued, "If you want to keep it a little loose and tell a few jokes, that would be totally fine."
Jokes?
I had a tough call to make in the next twenty minutes. I could:
Stay the course with the leadership content I had planned.
Abandon course and wing it, adding a lot more humor to my talk.
Run like hell.
What would you have done?
I went with a hybrid of A and B. I abandoned my introduction and closing and opted for a little more fun and audience interaction. It was a tough game-time decision for me.
I am not a stand up comedian.
My first "joke" landed. I went downhill from there. I almost lost control of the whole thing when I invited a little impromptu participation. My only saving grace: I earned big applause when I closed fifteen minutes early and returned the revelers to the bar.
It was an interesting day at the office. It also turned out to be one of my most important presentations of the year. I learned four powerful lessons from my experience:
Prepare. My first inclination after walking off that stage was to call my business manager, Lynn, and ask her how we could have missed this. But, I paused and re-considered our whole approach to preparing for an engagement. It was time for an upgrade. Since then, we've evolved from casual discovery to a very specific and thorough process that often includes focus group interviews with attendees well in advance of a presentation. That enables us to offer more customization and ensures we show up ready to deliver.
Be yourself. The best connections happen when you show up as the best version of yourself. When you try to be someone you aren't, you're never going to connect with others. We're far better served by actually trying to be a little more of who we really are.
Always do your best. Every time I finish a presentation or we complete a project, I want to consider: Was this my very best? How could I do better next time? I've learned to expect the unexpected. Stuff happens that is beyond our control. We have to prepare and execute effectively on the things that are within our sphere of influence. At the end of the day, that's your responsibility: Show up as the best version of you. Your absolute best is always enough.
Find the lesson. Adversity is our best teacher. It's where we find the most growth. In our weakest moments, there's usually a lesson that helps us gain strength. My core philosophy for learning and improving: Be humble. Stay hungry. Always hustle.
As the party resumed and I was packing up my gear, a couple of guys approached and invited me to grab a beer. I gladly accepted. As the night progressed from the pavilion party back into the hotel bar, I was actually grateful to receive so much candid feedback on my presentation. That only serves to makes you better.
I've actually learned a few jokes since then and considered giving an open mic stand-up performance a try. I think that applying these four lessons might help me take a shot at funny.
The way I see it, I don't have much to lose, and probably a whole lot to learn.
Ryan Estis helps progressive companies embrace change, attack opportunity and achieve breakthrough performance. Delivering more than 75 live events annually, Ryan provides high-impact keynote presentations and professional development in partnership with the world's best brands. Learn more about Ryan.