I arrived for my first visit to Sun Valley to deliver a workshop for the sales organization of CBH Homes. The setting was so beautiful, and it definitely won't be my last escape to spend time in Idaho. As I entered the hotel ballroom early in the morning on January 15, I was welcomed with a big hug by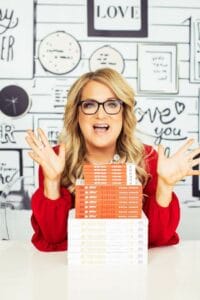 CBH Homes Vice President Ronda Conger and immediately invited to participate in the guided group meditation about to commence. I paused and took a pass to prep my session but I did participate in the group gratitude exercise that immediately followed morning meditation. This was already feeling very different than a typical SKO — more like a cross between a Hoffman Retreat and a President's Club Celebration which frankly is right up my alley! I couldn't wait to engage with this group and as our time together unfolded it all started to make sense. Ronda is one of the most impressive sales leaders I know and she's built a culture at CBH Homes based on her core principle of "Love wins."
She's preparing to re-release her first book, "Better Human," this fall and I recently finished reading it. It's a phenomenal read, filled with powerful, enduring principles that resonate, especially right now.
In advance of the book's re-release, I reconnected with Ronda to discuss the book, overcoming adversity, leadership and how her formative years shaped many of the philosophies and guiding principles that have propelled her forward.
The Better Human Philosophy
"Better Human" is a book about exactly that — how we can be better people. At the core of Ronda's philosophy is a simple ethos: We don't just wake up one day suddenly better. Instead, being the best person you can be is a daily effort. "Each day, you get to awaken to the opportunity to find your better human," Ronda says. "It's something I fight for and work for every day."
Ronda's "Better Human" philosophy was forged during her difficult childhood. Ronda's mother died when Ronda was only 3 years old, and her home life was far from stable after that. "The theatrics that come with numerous step-mothers, divorces, step-siblings, drugs around me, physical and mental abuse, and innumerable other follies made for one hell of a childhood," she writes candidly in her book. But those same experiences also taught her that it was up to her to create the life she wanted.
At age 17, Ronda moved to Canada to attend community college. She held down multiple jobs simultaneously and immersed herself in reading. She's stayed in the learning lane ever since. It's an important lesson for leaders in every category. There is always more you can learn, Ronda says, and that knowledge can come from anywhere. "I am still learning every single day — not only from books or conferences, but from the people around me, listening to them," she says.
In other words, being a better human is not just about working on yourself. It's about opening yourself to what others might teach you. "It's like the African proverb — if you want to go faster, go by yourself. But if you want to go farther, go with others," she says.
Being a Better Human Right Now
It's one thing to be a better human when things are great. It's definitely different during periods of extreme stress or adversity. Whether it's your mental health, home-schooling your children, or financial stress, 2020 has provided a host of unforeseen challenges.
So Ronda suggests making sure that you focus on yourself. "The only thing we can control is ourselves right now," she says. "That's the most important job you have right now."
It's a lesson that Ronda learned during her childhood, and it's one she's relied on during these moments of adversity. But for Ronda, accepting this moment also means accepting that we are living in a world that has forever changed. "I'm tired of hearing people say, 'I just wish we'd get back to normal,'" she says. "That's the wrong thinking. We're never going back to the old normal." Instead, embrace this moment with gratitude, including the setbacks. "I consider everything that is happening to me a blessing," Ronda says. "It's teaching me how to be stronger and teaching me how to be better — there's a lesson in it to find."
Ronda has also brought that mindset and message into her role as the Culture Champion at CBH Homes. At the onset of the COVID-19 pandemic, she posted four principles for her team on a whiteboard:
We will survive.
We will adapt.
We will advance.
We will thrive.
It's a way to look at this moment and a powerful reminder to find the opportunity inside the challenge.
Love Wins
Another one of Ronda's philosophies can be seen on the signature of every email she sends: "Love wins."
I've written in the past about the idea of bringing love to the workplace. And I can't think of a better example of someone doing exactly that while still driving the exceptional performance and growth of the team. She works to spread love throughout her workplace, and for Ronda, the opportunity to lead with love is not just about being kind — it's also about getting the best out of both her team and herself. She explains it in her book:
"Think of someone you love right now. Think about how you treat them. How you feel about them. How you get excited when you see them. You would move mountains for them."
Ronda understands that leadership isn't a job. It's a responsibility. "If you want to lead, you're taking on the responsibility to care and love those that are with you," Ronda says. One way she does this is simple. Every year, she has a sit-down interview with every member of her team. It's scheduled for 15 minutes, but often it goes much longer. It's not a performance review. Instead, this meeting is about an employee's life outside of work — whether that's their spouse, their children or personal issues they may be dealing with. And what Ronda wants to come out of the meeting is simple as well: "It's really just to say, 'I see you. You're important. I love you. How are you doing?'"
During the pandemic, Ronda has also started a new tradition as well. With her team working remotely, Ronda decided to create a weekly video series to stay connected with her team. Every Friday, she sends a video to her team, and the title of the video series is "So Much Goodness In This World." Each video focuses on positive things she'd like to share with her team, rather than the gloom and doom we can often see on the news. It's ultimately a message of unity towards her team, and Ronda encourages leaders to make sure they are creating connections with team members. "You have to get creative and do it in different ways," she says. No matter what route you choose, though, she says to make sure that your team is seeing you put your principles into action.
Your principles are what matter most right now. So take a page from the Better Human playbook and lead with love.
Love wins.