I first met Julie Faupel during a week-long personal growth retreat. The retreat required a total digital detox and abstinence of any conversation related to career, work or business. Julie and I became fast friends and for me personally, the retreat experience was transformational. Fortunately, the experience has continued in a way I could have never expected thanks to Julie and her husband Matt.
Each summer, Matt and Julie host a retreat reunion weekend in their hometown of Jackson Hole, Wyoming. The weekend has been such a gift in keeping our tribe connected, helping us continue the journey of personal growth and experience a myriad of personal tests in one of the most beautiful, natural settings on the planet. The effort, planning, generous investment and love that go into these weekends speak volumes about Matt and Julie. They put people first, and their deep commitment to community and care for others also informs their approach to running their business, Jackson Hole Real Estate Associates.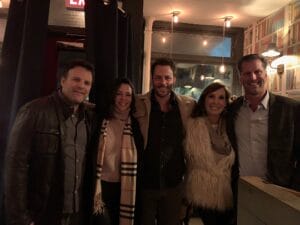 I refer to Julie, only half-jokingly, as "the mayor of Jackson Hole." She's passionate about her hometown, and is the perfect go-to for a full range of recommendations from the best yoga class, fitness hike, mountain adventure — and of course the most epic dinner experience you'll have later that night. My reunion weekend with the Faupels is magical and has become of the highlights of my summer.
Knowing Julie, I'm not surprised she runs a successful business. But what floored me when catching up with her recently is how successful. In the past year alone, Jackson Hole Real Estate Associates has experienced a whopping 80 percent growth. It now has more than 115 agents in offices in Jackson, Wyoming; Star Valley, Wyoming; and Teton Valley, Idaho. Their model is also scaling to outside markets including Aspen, Colorado.; and Bend, Oregon.
Growth like that doesn't come easy. But Julie's secret really is simple: Get closer to the customer.
Give More
Real estate sales are often very complex affairs. But Julie knows it takes more than the knowledge of finance and real estate law to make a great broker.
"A great broker," she tells me, is a "gateway to, oftentimes, meaningful relationships in the community, whether it's philanthropic recommendations or school recommendations or introductions to neighbors and friends."
It's also a reminder of the importance of authenticity in sales. We expect to be the same person on Tuesday as we are on Saturday, and we have the same expectations from people on the other side of the table. Julie sits on the board of the Community Foundation of Jackson Hole, and she's enormously passionate about improving the lives of those in her community. Her desire to bring people together isn't a sales tactic. It's who she is at heart.
What Julie recognizes is that a sale isn't just a sale. Salespeople who approach their customers on a purely transactional level will never get far, she says. "There is really no value that you're adding, because you're kind of moving from one to the next." But if you give the customer more than what's expected and you won't just get repeat business; you'll get referrals — and growth.
Instead of focusing on being successful, Julie is laser-focused on being helpful. When you genuinely and sincerely put others needs ahead of your own and go above and beyond a funny thing starts to happen. People become much more inclined to return the favor and help you get where you want to go.
Serve as a Trusted Confidante
Technology has revolutionized the real estate business. With so many new ways to communicate, geography is no longer a barrier to getting things done. Deals can be negotiated and closed with a few emails and red-lined PDFs.
But just because something's more convenient doesn't mean it's what's best for growing your business. Whenever she negotiates a sale, Julie says, she does everything she can to ensure negotiations take place in person, even flying if necessary. "It's worth it because then you have the advantage of really reading them, reading their body language," she says. "Technology can get in the way."
Reading these emotions provides valuable insights in a negotiation. "A lot of times it's not even about the money," Julie says. Negotiations revolve just as much around personal attachments, and deciphering which deal points are most important is a whole lot more challenging when all you have is a wall of text.
Julie describes herself as a "trusted confidante" as much as she describes herself as a broker. Once she understands the various parties' emotions, she feels she's equipped to do her best work as a negotiator. "I'll try to soothe people into a decision," she says. "You can start to really soften how people relate and how you can ease them into a situation." That requires incredible competence and a whole lot of EQ.
Real estate is an incredibly emotional purchase decision. A purchase impacts our families and future is a profound way. Having a high EQ is an advantage in getting people into a place where they are comfortable making a decision. Julie has EQ off the charts, and that has proven to be a significant advantage and the catalyst that turns customers into friends for life.
Lead From The Inside Out
Professionally, real estate is a great fit for Julie. Her innate curiosity fuels her confidence, and she loves to learn from people as much as she loves to get to know them. "I'm a student of life," she says.
She also dedicates time to self-care and personal growth. She practices meditation and yoga, and she credits this inner work to increasing her awareness toward others. Focusing inward, Julie says, helps her relate better to those around her. "It makes you more empathetic," she says. "It makes you more effective because you understand more about what's going on inside you."
You can't pour from an empty cup. The best leaders and entrepreneurs incorporate wellness and mindfulness practices into their daily routines and rituals. Self-care and awareness is a catalyst to making more meaningful connections and that includes getting closer to customers.
That self-care and self-awareness are imperative for any entrepreneur that wants to accomplish big things in the world. That's Julie. Her journey isn't stopping with Jackson Hole Real Estate. Soon you'll hear more about her new technology startup, REALM. Why launch a startup alongside a very successful real estate brand already? REALM is all about empowering the relationships that we already have through data. There is no doubt that technology is changing the way that the real estate business operates and that level of change is scary for a lot of brokers. In Julie's hands, technology is embraced and deployed in an approachable manner that enhances client interactions; it will never replace them. Essentially, REALM will support the agents that use it and make them more productive, more efficient and a greater resource for their sphere of influence. It will make the world a better place. That takes courage, and my friendship with Matt and Julie has pushed me to exercise my own courage muscle in so many ways.
Our time together in Jackson Hole always pushes me past my comfort zone and our next adventure together will be no exception. Next summer, we are going to climb Grand Teton, one of the classic American mountaineering ascents. The peak rises to 13,775 feet. The Grand, as it is called, rises 7,000 feet above the valley floor with no intermediate foothills in front of it.
I don't climb. I have a fear of heights. But I've got Matt and Julie leading the way. I trust that will take me to places I never thought possible on my own. That's a gift that keeps on giving.