>
>
>
>
How to Improve Engagement and Sales Performance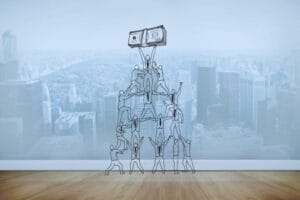 I recently partnered with Modern Survey on a new employee engagement study. Our research found that salespeople are much more engaged than non-sales employees.
While salespeople are more engaged than non-sales employees, they're still looking for other opportunities. Our research found that 42 percent of sales people are actively looking for new jobs. Imagine losing one top producer — and now imagine losing ten. What if you lost a top producer directly to the competition? Feeling sick to your stomach?
How long would it take to recover from that kind of loss?
This data leads me to an obvious question: How can leaders create a culture where salespeople are engaged, performing above plan — and committed to staying?
Build a culture of engagement
The short answer: Culture counts. Everyone inside an organization contributes to building a culture of engagement. It starts at the top with senior leaders, is driven daily by managers, and employees make a choice about whether they'll bring their best efforts to work consistently.
So where should you start?
As a jumping-off point, take a look at three important elements of a strong culture: values, trust and consistent communication.
Values
According to Modern Survey research from last year, only 1 in 87 employees are fully engaged when they work for a company that doesn't have clearly understood organizational values. And just having values isn't enough. Leaders need to emphasize and reinforce the organization's values to make sure they have an impact on the hearts, minds, attitudes and actions of salespeople. Values inform how to approach the work, customers and each other. A strong, value-based sales organization clearly has a huge advantage.
Trust
Employees who trust their direct managers and senior management are more likely to be engaged. It's hard to move the needle on engagement and performance without trust. We have a trust deficit in corporate America where approximately half of all employees don't have trust and confidence in their leadership.
A common characteristic of trustworthy leaders: They do what they say they're going to do, when they say they're going to do it, all of the time. Consistency counts! Everyone wants to work for someone they can count on to contribute, consistently. I was fortunate to experience working for that kind of leader for a decade and I learned a ton through his example. (Read what I learned from him about high-trust, high-value relationships: 9 Leadership Lessons From The Best Boss I Ever Had.)
Consistent communication
Selling is a team sport. In order to get people on the same page — and to help them connect to a shared vision — you need to consistently communicate that vision. That means being accessible, transparent and providing a clear and compelling game plan to deliver results.
In sales, it's also important to communicate clear performance standards and expectations, and hold people accountable.
Sales leadership is all about results — for the team and the entire organization. The best leaders don't make excuses and deliver their number, consistently. They own their outcome and have the ability and discipline to expect the same in others, creating a culture of performance and accountability. They give feedback, take corrective action when it's required and have the courage to hold people accountable.
Have you clearly communicated what people can expect from you? Are you delivering on those expectations consistently? Start there. When you set a clear standard of personal contribution and deliver on it well, it becomes a lot easier to hold people accountable.
Understand what salespeople are looking for
Our research found that the top drivers of engagement for salespeople are, in order:
Confidence in senior management.
Opportunities to grow and develop.
Confidence in the future of the organization.
The belief that they work well as a team.
The feeling of personal accomplishment from work.
Knowing they contribute to the organization's success.
Confidence in senior management
The top two drivers — having confidence in senior management and having opportunities for growth — show that there is still a lot of uncertainty about the future. Many salespeople want to know where the leadership is taking their organization. They also want to work for an organization that is going to invest in them and their skills.
Confidence in senior management goes back to the culture of engagement:
Do senior managers live the company's values?
Do senior managers lead by example?
Do they establish trust by acting consistently?
Do they communicate regularly about the expectations they have for employees and the organization?
Opportunities to grow and develop
Having opportunities to grow and develop within the organization is also key. Salespeople are looking for training, growth opportunities, and a plan for development.
The myth is that it's all about recognition when it comes to sales. This research shows that salespeople are looking for more than just compensation. Salespeople want to work for a company that knows where it's going and that can provide them with opportunities to grow and develop.  Culture counts!
Culture is a reflection of how we lead.
Looking for more inspiration? Read case studies and stories about sales engagement and leadership at best-in-class companies. Download the ebook, "Leading Breakthrough Sales Performance."
Ryan Estis helps companies and individual contributors embrace change and achieve breakthrough performance. Each live event blends original research with compelling stories that move participants to take action. Ryan has 20 years of business experience working with the world's best brands to initiate change, inspire innovation and deliver growth. Learn more about Ryan Estis.
Ryan Estis is a Keynote Speaker & Management Consultant blogging about business performance.