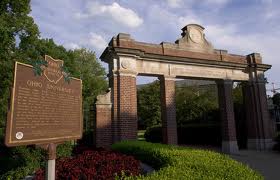 I am trending toward 70 live events/engagements this year, focused predominantly on the drivers of business performance (Leadership/Sales/Innovation) during this incredible time of transformation and change.
Each engagement is a little different.  We go the route of customization and focus on delivering a consistent experience.  That keeps me on my toes.  Where I like to be.
Occasionally we'll insert an engagement into the lineup that is a departure from the conference or corporate event that challenges us to think different.
Going back on to a college campus next Thursday qualifies.  In partnership with premiere technology solutions provider CDW, Delta Sigma Pi, Pi Sigma Epsilon and the American Marketing Association I will be presenting Sales Shift: Accelerating the Transition from Campus to Sales Career.
This one is personal.  I want this evening to matter.  I recognize that sacrificing a Thursday night a few months before graduation is tough call for any college senior.  That fact that a few hundred have decided to do just that and join us at NIU is inspiring. I wouldn't have done it.  That's the honest truth. I would have been doing the Court Street Shuffle and that makes these future sales stars a little different from me.  Good for them.
It is also precisely why in making my own transition from campus to sales career I was 7 months into the shift with a goose egg on the scoreboard.  I couldn't close.  I couldn't even open.
I came dangerously close to making the transition back to my parent's basement.  Selling baseball cards for beer money wasn't the game plan but it was exactly where I was headed.  I had a little natural talent.  I had absolutely no sales skill.  Talent alone isn't good enough.
Jim Rohn saved me.  He delivered an epic seminar that I still count as the single most transformational moment of my career. One night. Three hours. Jim opened the door.  He gave me permission and some powerful tools to jump-start my success.
I read Think and Grow Rich and the The Greatest Salesman in the World in the next 3 days.  (my homework from the seminar…I still have the notes).
That was the beginning.  I never looked back.  It's funny how once you become good at something that begins to fuel your passion.  That is how it was for me.  I wasn't passionate about sales or leadership until I was good.  That is also the truth.
Today it is even more important to be good.  Scratch that.  Today any VP of Sales is searching for the extraordinary.  Every spot on the roster counts.  Today you need to be better than good.  Average is over.  I know this because I asked.  I asked 5 of the strongest sales executives in my network what they want from new hire graduates.  What they expect.  What they need.  I will shed more light on that Thursday night.
Bottom line, they are looking for an edge. They are all very impatient when it comes to results.  They all are facing enormous pressure to hit a number.  They have no choice but to demand sales excellence and high impact performance out of the gate. That is also the truth.
In looking back today I was lucky.  That night with Jim proved to be transformational.  The decision to change happens in a moment.  That was mine. In preparing to go back to campus I plan to bring some of his timeless insights with me.
My Alma Mater has an Alumni Gateway at the corner of Court and Union Streets where Ohio University and the City of Athens meet.
The Alumni Gateway greets all who enter the campus with an inscription that reads:
So enter that daily thou mayest grow in knowledge, wisdom and love.
The inscription over the alumni gateway for those departing the campus reads:
So depart that daily thou mayest better serve they fellowmen thy country and thy God.
Beautiful words I have always remembered.  Today I am reminded of the significance in their meaning.
I am very grateful for the opportunity to connect and share next week.  I hope my words can serve to inspire.
I know these students will most certainly inspire me to continue to grow in knowledge, wisdom and love.