"The conventional sales wisdom is based on dialing for dollars. You bang out 100 cold calls a day — that's how most people get started in sales. That's how I started. But that's not how buyers want to buy today. We looked at the data and saw that cold calls were inefficient. We said, let's sell to buyers the way they want to buy." –Phil Horn, VP of ticket sales and service, Sacramento Kings
Customers have the power and sales organizations have a clear choice: Adapt or become increasingly invisible and irrelevant.
The notion that customer expectations are changing isn't new. The real challenge is that they are changing much faster than most companies can respond, subsequently putting tremendous pressure on the C-suite and everyone responsible for capturing market share and driving profitable growth.
We are navigating a landscape with unprecedented disruption, increasing transparency and constant change. Customers have complete access to information about margin and price. Products, services and solutions increasingly offer no compelling differentiation. Customers would rather buy online to avoid dealing with a sales professional. According to Forrester Research, executive buyers report that "only 20% of the salespeople they meet with are successful in achieving expectations and creating value."
The outcome, according to an August 2016 survey by Aon, Anaplan and The Sales Management Association, is that just 60 percent of front-line sellers hit their performance goal in the last full fiscal year.
How Can Leadership Respond?
Amateurs react. Leaders anticipate and take aggressive action to advance the organization. The marketplace punishes an organization that isn't willing to evolve. The new mandate for sales leadership is maintaining a foot in two worlds: You have to deliver performance today while also reinventing your go-to-market strategy to thrive in the 2020 world that hasn't even been invented yet.
Adapt and Thrive
For the past two years, in partnership with Don MacPherson, we studied the relationship between engagement and sales performance to better understand how world-class sales organizations position themselves to win. To support the research, we also spent time with six category-leading companies that are prepared to win in a 2020 world.
We are publishing the research and case studies in our new ebook, Adapt & Thrive: How Sales Leaders Can Prepare to Win in a 2020 World. The ebook offers insight into what makes top producers successful today and includes ideas from:
The Sacramento Kings

Berkshire Hathaway

Bullhorn

Vanguard

Chris-Craft Boats

Citrix
Read the ebook for ideas you can leverage immediately to better prepare, compete and win.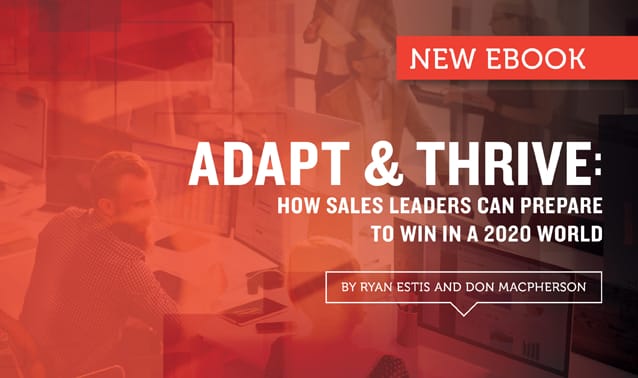 The massive shift in customer expectations is actually providing unprecedented opportunity to win big! Truly great salespeople are even more relevant and valuable. Consultative sellers are finding ways to provide new information, offer additional value and help customers think differently about the future. They're experts about their products, competition, customers and category and are well-positioned to thrive into the future. They win on value and refuse to compete on price.
Sales leaders need to get more comfortable being uncomfortable. The key to success is to disrupt your own business before the marketplace does it for you