>
>
>
>
Riding UTVs, Eating Barbeque and Fly Fishing Can Help Your Team Win
Leadership
Riding UTVs, Eating Barbeque and Fly Fishing Can Help Your Team Win
June 15, 2017 by Ryan Estis
"Hit the gas!"
Truth be told, I was a little worried about getting stuck in a waist-deep swamp, but Seth had that look in his eye as we ripped our UTVs through the northern Wisconsin trails last week while visiting Rondele Ranch. I think we were both pretty happy at the prospect of calling this work and sharing the experience with our customers!
The Corporate Retreat
If the idea of a retreat is conjuring up images of trust falls, rope courses and lousy boxed lunches outside of a hotel ballroom, think again. Smart leaders recognize the importance of investing in team-building and culture and are stepping up their off site-game to deliver an experience that helps employees connect, commit and consider how to elevate performance and impact the business in new and different ways.
Today companies are converting grand estates into corporate retreats or looking for a comparable experience to engage and reward employees. In fact, this week I supported two off-site meetings with exactly that objective.
On Monday I helped the Dallas Cowboys kick off their 2017 leadership retreat at the Omni Barton Creek Resort & Spa in Austin, Texas. Following the meeting we enjoyed a wine tasting and Texas style barbeque at the one and only Salt Lick.
The meeting objective was pretty straightforward:
Learn something new.
Build relationships.
Have fun.
Take it home.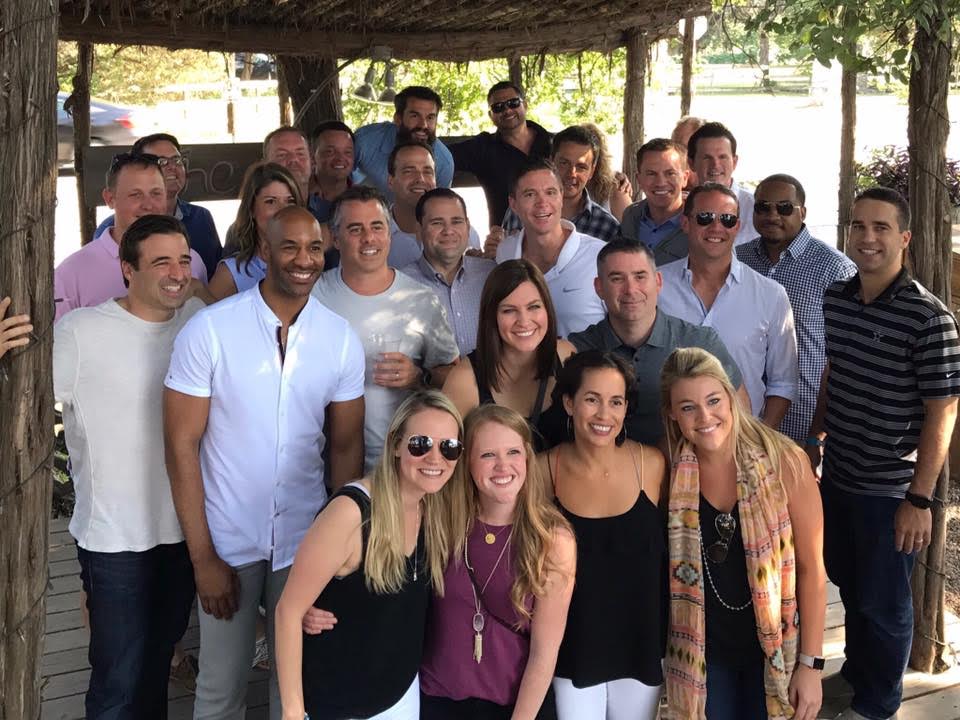 Today, I'll be casting my fly into Rock Creek Lake in Montana before my kick-off keynote for Fidelity National Financial at the incredible Rock Creek Cattle Company Ranch. Fidelity is another example of a company that understands time spent together away from the office in a unique environment is good for both the people in the organization and the performance of the team. So many people today feel overworked and overwhelmed and a simple step back can serve as a catalyst to help people see their work and opportunities from a completely different perspective.
A good corporate retreat should incorporate both work and fun. It should also give people the opportunity to relax, reflect and build relationships that will serve the business into the future. As someone who supports more than 70 conferences and corporate events annually, I have witnessed both the immediate impact and long-term ROI of a quality retreat on the performance of a team. I have also benefitted personally from immersive retreat experiences. I decided to bring some of that same lasting benefit to my work with companies and leadership teams.
Leading Breakthrough Performance
Seth Mattison and I have partnered to design this new leadership development experience. Our goal: help leadership teams guide their organizations through the incredible transformation we're going to experience on the journey to 2020. We've been fortunate to receive some powerful feedback right out of the gate:
Best session ever attended – forced me to take a hard look at myself and change my routine to push me to the next level of servant leadership and innovative thinking. It is about the impact on others that you can make every day that will really shine after a session with Ryan and Seth. Thanks for delivering a life changing day that I would recommend to anyone wanting to seek and provide inspiration for their team. – Barb Schwarzentraub, Director, Component Operations and Supply Chain, Caterpillar Inc.
However, we both recognized the incredible upside of taking our experience out of the boardroom and into the wild. Enter our new partnership with Rondele Ranch in Wisconsin. Working at Rondele, we'll be able to deliver a world-class experience to customers and teams willing to step just a little bit outside their comfort zone in an effort to achieve a breakthrough together.
If you vision a different future for yourself or team, I hope you consider an epic journey of your own or one of our ranch retreats. There's something magical about turning off the technology for a few days and entering an entirely new environment that challenges you, changes you and connects you to others.
Plus, there's nothing wrong with having a little more fun at work!
Want to get more ROI out of your next conference or corporate retreat? Listen to my podcast interview with Executive Speakers Bureau and I will tell you how.

Ryan Estis helps companies and individual contributors embrace change and achieve breakthrough performance. Each live event blends original research with compelling stories that move participants to take action. Ryan has 20 years of business experience working with the world's best brands to initiate change, inspire innovation and deliver growth. Learn more about Ryan Estis.