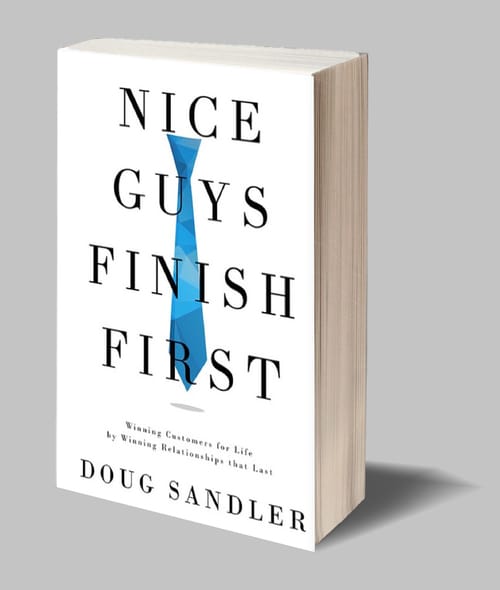 I first met Doug Sandler a couple of years ago. I spoke at a conference and he introduced himself to me afterward. He was looking for advice on transitioning his career into speaking and writing professionally.
Less than two years later, Doug is preparing for the release of his first book, "Nice Guys Finish First." Doug is a great writer, an incredibly hard worker, and an all-around "nice guy."
Recently, I asked Doug to tell me more about his book and the stories he shares in it.
I know you've recently made a big change in your career. How did you get where you are today?
I always tell people that I've been in sales for 30 years. To borrow a quote from my dad, I really don't have 30 years of sales experience, I have one year of experience 30 times! I've had a lot of different sales roles, selling mortgages, homes — whatever. But my creative passion was always working as a DJ. Eventually, I realized that my full-time sales job was getting in the way of my side job, so I made a business for myself in the entertainment world.
I just turned 50, and I started thinking, maybe the entertainment industry isn't the best place for a 50-year-old. I started looking for new opportunities. When I saw you speak, something clicked. I realized, "I can do this!" I knew I wanted to make the transition from being an entertainer to being a speaker. Meeting you put a lot of things into motion for me. I started working with a speaking coach, who encouraged me to write a book. Now my book is being sold on Amazon. I immersed myself in making that happen. I got a lot of great opportunities, and I burned the boats — I didn't have a back-up plan, so I had no choice but to keep moving forward.
Tell me about the book. Who should read "Nice Guys Finish First" and what will they learn from it?
First of all, I'm using "guys" in a gender-neutral way. This book is for anyone who wants to work on their relationships. I wrote this book for people who are looking for ways to connect and reconnect with their people at work.
Relationships are important, and building relationships is the most valuable thing you can do in business. Without strong relationships and good communication, business will break down. Relationships are the oil that grease the skids of business. People come first, always.
In a world that's becoming increasingly dominated by technology, what's your advice for creating real, human-to-human relationships?
With the growth of technology in today's business culture, it's easy to hide behind email. It's a lot harder to pick up the phone and call someone.
"Nice Guys Finish First" is about creating a human connection — person to person. Sometimes it's so important to make those one-to-one connections.
I think a lot in the book about customer service. I'm finding that more and more, companies don't even give you the option to talk to someone on the phone. I recently tried to get in touch with a web hosting company. They didn't have an inbound customer service phone number, so I submitted a web ticket asking them to call me. Their response: They don't have an outbound phone, either. That's a missed opportunity. It can't be all about technology — you have to have a human connection.
When you're working with customers, you need to look at every situation from the customer's perspective. If everyone treats everyone else with a huge amount of respect and is a "nice guy," you end up with a much better level of understanding
Tell me about your 24-second rule.
We're all busy, but it doesn't take much time to start a connection with someone. Years ago, I started taking 24 seconds to text people in my contact list, "Just thinking about you. Hope you are having a great day." Now, those connections have spread, and I get texts on a daily basis from people all over the world wishing me a great day. I get those texts at the most opportune times, when I need a boost.
When you do it right, technology can be used to strengthen relationships. You just can't depend on technology to make it happen.
What advice do you have for managers who want to strengthen their relationships with employees?
Don't forget that there's a person on the other side of your technology. An email can be interpreted by four different people in four different ways. It's so important that you let people hear your voice and see your face. That's really how you're going to improve relationships.
One of the chapters in the book is "Nice Guys Empower Others." I tell a story about a boss who makes top-down decisions and keeps all of the control. He's following what I call the "big-boss" theory. The big boss will work until the day he dies, because everyone will rely on him every time they need to make a decision.
Instead, great managers empower their people to make decisions and to treat customers well. Empowering people is the easiest, fastest way to create powerful connections between your company and your customer.
Last question. What's the best business advice you've ever received?
For anyone who's trying to find their voice: Understand that failure is a part of success.
I've had so many false starts and so many opportunities to fall flat on my face. But I just didn't give up. You just have to keep moving forward. Don't let failure or outside noise get to you. Eventually you'll fail your way to success.
Thanks, Doug! You can pre-order "Nice Guys Finish First" on Amazon.
Ryan Estis helps companies and individual contributors embrace change and achieve breakthrough performance. Each live event blends original research with compelling stories that move participants to take action. Ryan has 20 years of business experience working with the world's best brands to initiate change, inspire innovation and deliver growth. Learn more about Ryan Estis.