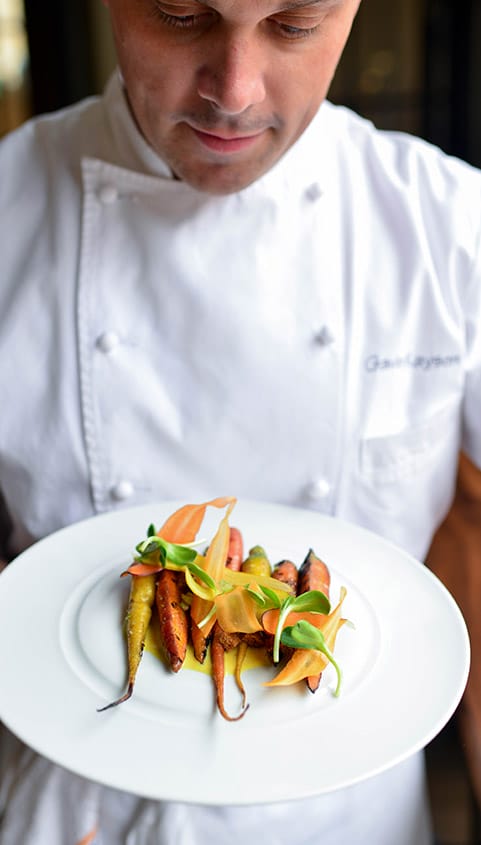 A short walk. One block from my front door, to be precise.
We settled into a couple glasses of red and started with a selection of cheese and the charcuterie. Our celebration was in full swing but I was having trouble concentrating. The dinner theatre unfolding right in front of me was proving to be a formidable distraction.
Sitting at the chef's counter provides a perfect view into the open kitchen where the precision, timing and artistry of the Spoon and Stable team never disappoints. I decided on the pork chop after seeing it plated to perfection. It tasted every bit as good as it looks:
I am not a foodie or the kind of dude that typically shares his entree selection on social media. However, dinner at Spoon and Stable always seems to be an exception. It has become my go-to neighborhood spot for a special occasion dinner or an impromptu drink on a Tuesday night. It is hands down the best restaurant in Minneapolis. It's also one of my all-time favorite dining destinations anywhere in the world.
The man responsible for bringing the culinary magic into the North Loop neighborhood of Minneapolis is critically acclaimed Chef Gavin Kaysen. After years working in top restaurants in Europe and with Daniel Boulud, his Michelin-starred chef and mentor, Gavin returned home to Minnesota where it all started — in a Subway sandwich shop! A long way from Subway, Gavin is a gifted chef and visionary entrepreneur who puts his people first and pours his heart and soul into every plate of food that comes out of his kitchen:
VIDEO: Gavin Kaysen – A Chef's Story from New England Culinary Institute on Vimeo.
Turns out Gavin has been cooking for our mutual friend, Larry Flick, for years. After catching up with Larry over dinner recently he made the introduction. I was excited to meet Gavin and let him know how much I enjoyed his restaurant. I was also interested in learning more about his entrepreneurial journey and recipe for success. I walked into the restaurant and found him filleting fish at the chef's counter in preparation for dinner service. The food prep stopped for a brief moment, when Gavin's son wanted a cookie. Gavin gently guided him over to the pastry chef to make the ask. It was a touching, teaching moment that shed a little light on his own journey home. Fortunately for us, I'd bet Gavin is just getting started.
Our conversation spanned the spectrum of culture, customer experience and business building. I hope you enjoy it and the next time you plan on being in Minneapolis, give Spoon and Stable a shot. Just be sure to make your reservation a couple months in advance.
The Gift of Leadership
Gavin started cooking at a young age with his grandmother. It was a creative outlet — a form of expression. When he was sixteen, he knew cooking was what he wanted to do for the rest of his life. However, passion alone usually doesn't unleash this kind of unique, creative talent into the world. That requires something else.
"I felt very behind. I grew up in a home with two busy, working parents. Beets came out of a can. Food wasn't a big part of my life." During culinary school, it was clear he was playing catch-up. Being the underdog can provide the right kind of person with undeniable discipline and drive to succeed.
"I am a student of life. I will always be the one to work harder than everyone else to make sure I get it right."
Part of Gavin's commitment includes cultivating talent through mentorship.
"I was always of the mindset to follow mentor chefs and listen to what they were saying."
He has cooked in some of the best kitchens in the world. That was by design and the emphasis on mentorship is reflected in the Spoon and Stable kitchen today.
"Mentorship is still very relevant in our profession. It's easy to think you don't need it, but at the end of the day, how are you going to transform from cook to chef?" Gavin has made mentoring young cooks a top priority. "It's my responsibility to get them from Point A to Point B. Cooks come in and say they're going to give you two years. But you have to think about what you're going to give back to them. I'm training my people for their next step, either here or somewhere else."
As leaders, we have the opportunity to change lives, shape careers and help others realize their full potential. Leadership isn't a job — it's a responsibility. And leaders who take that responsibility seriously can make a major impact on the lives of the people they lead.
Bringing Customers into the Kitchen
Spoon and Stable really is one of the toughest reservations in town. The interest surrounding the restaurant certainly elevated customer expectations. My own were super high upon walking in the restaurant. Frankly, I kind of expected to be blown away. That notion doesn't seem to be lost on Gavin for a second.
He wanted to "reset customers' expectations" the moment they walk through the door. The humble facade gives way to a long bar, grand dining space, two-story wine room, and perhaps my favorite feature, the open kitchen.
The open kitchen puts you into the action. You can even chat up the cooks. Perhaps more importantly, the team can see the reaction of the guests and better understand how they are experiencing the food.
"They get to see what I see every night. They get to watch guests take their first bite."
The space was originally constructed as a stable in 1906 but converted from office space into a restaurant that is designed to feel "like home." The staff expertly delivers an experience that perfectly balances that casual neighborhood feeling with special occasion dining.
Their obsession and attention to detail around the guest experience reminds me of category-leading brands like Ritz Carlton, The Dallas Cowboys and Heinen's. Spoon and Stable delivers, like these brands do, largely because of a leadership commitment to people. Simply put, the guest experience is a direct reflection of the employee experience.
Culture Eats Strategy for Breakfast
"My core philosophy, the number one group of people I care for the most, are my employees."
Gavin created a 90-page culture manual that includes service steps, standards and stories. The stories shed light on the history of the building and design thinking that went into the build out of the restaurant. That helps employees embrace the philosophy of the restaurant. It also helps them share it openly with customers.
"When I stand in front of my 73 employees, I feel a tremendous responsibility to provide a good life for them. I am so proud of the people that work here." That pride translates into a better experience for the guest.
Gavin leverages an idea he came across in a management book years ago that stuck with him: E=MC2, or Enthusiasm = Mission x (Cash + Congratulations). People will be enthusiastic if they understand the mission and they get the compensation and recognition they deserve. In his case, he shared, "we give the cooks every tool they need to perform."
He knows that to take care of guests, he has to take care of his employees first. His investors aren't the first priority either. In fact, he prioritized his focus and attention. Investors eat last:
Employees
Customers
Purveyors
Farmers
Investors
The investors don't come last because he doesn't appreciate them; rather, he knows he "needs to take care of the first four to pay them." That's good leadership and smart business but it's a philosophy that is unfortunately lost inside too many organizations — especially those facing the pressure of the public marketplace.
I worked inside one of those organizations for a number of years. I recall that the one very clear, core priority coming out of the C suite was to "maximize shareholder value." The only problem? The people working there didn't care enough to rally behind and commit to that purpose. Would you? No surprise that CEO lost 70 percent of the value of the business prior to my departure in 2009.
I can recall listening to legendary leadership expert Jim Collins share this simple idea:
"People first. Strategy second."
Get the right people on the bus. Put those people first. Performance and profitability will follow.
Be Humble. Stay Hungry. Always Hustle.
Gavin is a special blend of humility and confidence. That is the secret sauce for becoming an exceptional leader today. It stems from a high level of self-awareness and the satisfaction that comes from achieving success on your own terms.
"Everyone defines success differently. Focus on the process. You are going to make mistakes. Own the failure. Let it build your character and confidence. At the end of the day, all you've got is your name. It's important to know who you are on the inside."
That self-awareness is critical to building a life and business he loves. Bottom line, this is a chef who is passionate about feeding people amazing food. "I could have a million meetings and conference calls all day, but the second service starts, I feel at peace. I just love cooking for people and want them to enjoy the experience."
If you want to find me on Saturday night, you know where I'll be.
Photo credit: Spoon and Stable.