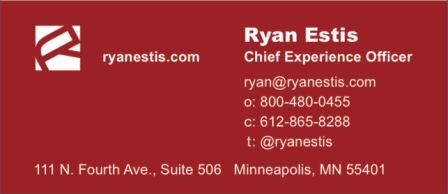 Who is in charge of creating the vision and designing the strategy to deliver a world- class experience for your customers? How about for employees?
Does anyone own that responsibility? Does everyone?
I used to carry the Chief Executive Officer title. Today, my business card reads Chief Experience Officer. I accepted the new job in part to serve as a constant reminder to myself and everyone around me that we have to own the experience, both inside the organization and with customers.Today, where we compete, that experience better be world-class. The onus is on us to make a meaningful, memorable connection. The days of counting on satisfied customers to keep coming back are long gone.
We're working in the experience economy. Customers have never had higher expectations, and if your organization fails to deliver on those expectations, there is usually a pretty good alternative choice a click away. To survive, you have to manage the gap between expectations and experience. To thrive, you have to deliver more than expected, consistently.
Leadership can start by boldly communicating the kind of experience both employees and customers can expect. Everyone needs to align and have access to tools, systems, and support to make those experiences a reality.
If you're missing this kind of specific definition and relentless commitment to creating experiences, you can almost count on mediocrity. That also represents opportunity!
Some of my favorite brands embrace the idea of creating incredible employee and customer experiences, and I've shared examples of their thinking about experience design here previously. Starbucks. Apple. The Dallas Cowboys. Ritz Carlton. The good news is you don't have to work for a big, established brand to start making giant leaps toward remarkable experiences. You can start by thinking small.
One simple idea: encourage and support people by celebrating their achievements. Farm Credit Services of America is great at boosting their employees' sense of accomplishment by reinforcing good work. The company started a "Making a Difference" award program. It's simple: any employee at the company can award a gift card, paid for by the company, to any other employee as recognition for a job well done or as a thank-you for lending a hand on a tough project. Farm Credit Services of America CEO Don Stark reports that 1,100 different employees received the award from a co-worker in 2012.
We know that recognition is one of the leading drivers of employee engagement. Those gift cards are small rewards, but they reinforce the company's core values, promote teamwork, and make employees feel valued. It's no surprise that this year, Farm Credit Services of America's Omaha office was named the city's "Best Place to Work" among mid-sized companies, and that 92% of employees report being engaged or highly engaged.
Another way to improve your employees' experience: listen to their feedback. Red Hat, an open source software company, has a strong employee culture based on the open source idea of a transparent community of contributors. Red Hat leaders engage in a constant open dialogue with employees about what's working and what needs improvement.
Through the company's self-regulated employee email chain, Memo List, employees give feedback on everything from industry news to HR policies — and leadership listens. And, on the flip side, leaders at Red Hat clearly communicate company-wide and departmental goals with employees. No one is left in the dark; all 5,900 employees around the world are included in the conversation about strategy and opportunities so that they can make the best decisions about their work and how they spend their time.
As a result of these employee-centric leadership decisions, Red Hat has been recognized as one of the best places to work in many publications, including securing a place on the Business Insider list "The 25 Best Tech Companies to Work for in 2013." At Red Hat, the insistence on transparency keeps employees feeling empowered and connected to the organization's vision and strategy. That's no easy feat when you have almost 6,000 employees spread across the globe.
To learn more about how Red Hat and Farm Credit Services of America are creating experiences that drive business growth, download our white paper: Winning with Culture: How Leadership Drives Engagement & Performance.
Ryan Estis & Associates is a training and development organization helping companies, leaders, sales people and individual contributors embrace change and achieve breakthrough performance in the new economy. We offer keynotes, live classroom training and online learning that blends interaction, energy and actionable content designed to elevate performance. Contact us for programming inquiries and assistance determining the curriculum that could best support your learning and development objectives.