>
>
>
>
Big Brands and Social Media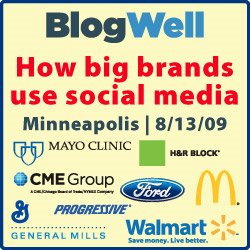 Attending the Blogwell event at General Mills in Minneapolis this week provided some interesting insights into how big brands are leveraging social media.  While the big brands each had varying degress of entrance into leveraging new tools there were central themes throughout the day.  One of those being the strong desire and interest among each brands community to connect online.  Lee Aase of Mayo Clinic talked about Mayo's digital footprint and provided insights into their Sharing Mayo Clinic Blog that serves as a destination for the many wonderful stories inside the clinic.  Walmart talked about their MyWalmart Assocaites web page that connects over 430,000 regular users in their employee population (although banning access at work seemed a bit contradictory to their desire to foster these connections – trust?).  McDonalds talked their efforts around motivating and connecting employees to leverage their own social networks as Brand Ambassadors for the Golden Arches through strategies like Station M, where approximately 40,000 crew members engage.   And my favorite presentation of the day, from Ford's Scott Monty depicted Ford's Social Media Strategy: "to humanize the company by connecting consumers with Ford employees and with each other when possible, providing value in the process."  My sense is while his toolkit may change, his strategy won't and it's a big part of the reason that Ford is one of the top social brands in the US.  It's completely clear that brands large and small need a strategy.  With a clearly defined objective, some commitment and the requisite tools to build and measure the effort a value proposition around the investment can be derived.
The other great lesson of the day was the importance of listening, learning and participating as an active voice with your community.  Scott described it as "setting his content free" and each presenter seemed to recognize the relinquishing of control in the new communications landscape.  Conference host Andy Sernovitz (author of Word of Mouth Marketing) commented in his session on ethics that the biggest risk for a big brand in social media is the failure to train your team.  It's important to understand how to use the tools and that knowledge can certainly minimize risk and enhance reward. Coincidentally one of the large health care brands in my hometown now has a Twitter account devoted to Careers.  The brand is a follower of mine (and I follow back).  Recently the brand sent a tweet and link to a requisition of a key management opening in their organization.  I responded back with a DM offering to connect them with someone in my network who met all the requirements and would have been an ideal fit for the position.  I never heard back.  And my point for this brand is…what is the point?  They miss the voice.  The human element.  The participation.  The opportunity.  And are falling well short of the new communication expectations on the social web.  As Scott Monty included in his presentation:  90% of social media is just showing up.  It's the other half that's hard.
Ryan Estis is a Keynote Speaker & Management Consultant blogging about business performance.