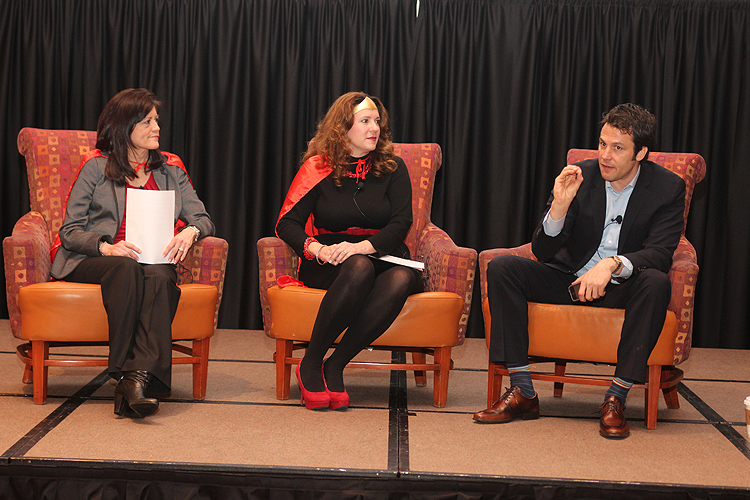 Last week, I delivered a keynote speech followed by an open Q&A session. I traveled to a new city, walked into a new conference center, and expected a pretty typical day at the office. But when I showed up to speak to the Apartment Association of Greater Dallas, I got more than I bargained for. I was blown away.
The theme of my keynote was Unleash Your Inner Superhero. When I talked to the AAGD event team months ago, they liked the idea of being your own superhero and they decided to make it the conference theme.
Here's where things got interesting. When I walked into the conference center, I was greeted by a sea of red capes. Every attendee who pre-registered had been sent a cape. Some had even personalized and decorated their capes for the event. And everyone who checked in that morning received a cape to wear. This group of hundreds of property managers was eating breakfast and wearing their superhero capes. As soon as I arrived, I knew that this group was ready. They had shown up eager, ready to engage, connect and have fun. They were completely switched on!
When the doors to the main hall opened, the front row filled up first. No one was sitting in the back row, playing it cool and separating themselves from those who were deeply engaged. To the contrary, the entire room was buzzing. Their energy motivated me and elevated the experience for everyone.
These caped crusaders got me thinking about the right way to attend an event. You get out of an event what you put into it. If you show up ready to learn and engage, every meeting, conference or trade show can be worth your time. These superheroes made the very specific and intentional commitment to be helpful, engaged and active participants in the experience. It's a choice and by showing up ready to learn, share, connect and contribute they're adding value to the entire community.
After speaking at 80 events last year, I've witnessed the stark contrast in how people approach meetings.
Here are my 5 tips attending a meeting like a superhero:
1. Do the pre-work.
A lot of events give you the opportunity to prepare ahead of time. If you're given advance materials, take advantage of them. Download content, read briefs, fill out worksheets for breakout sessions, get ready for peer-to-peer knowledge transfer time, and most importantly, prepare your thinking. Showing up with outcome objectives related to what you'd like to learn and being ready to contribute is a crucial first step for making meetings worth your while.
2. Decide how you want to show up.
Attending a meeting is an investment. You (or the organization who sent you) are making the investment for a reason. So, decide how you're going to get the most out of the experience. Especially for introverts, attending large group events can be overwhelming. Make a plan for how you'll maximize your time. Set goals for yourself and show up with your "red cape" on, ready to be the best of who you are. Make a plan and show up prepared to share, contribute and connect. Try and keep an open mind to alternative points of view and look for ideas that challenge your perspective and stretch your thinking.
3. Make meaningful connections.
Before every event, I challenge myself to make two meaningful new connections. For you, that might mean looking at the speaker, sponsor or attendee list ahead of time and identifying people you'd like to meet. Then, at the event, be open to making new connections. Branch out from the people you already know and look for opportunities to engage and meet new people. Seek people out, trade business cards, sit next to someone new at lunch, follow people engaged on Twitter and connect as a follow-up on LinkedIn. Yesterday, I had a catch-up call with an executive I met at a conference five years ago. We talked about finding a way to work together again. It pays to constantly be expanding your network.
4. Participate.
It's easy to sit in the back row, ignore what's going on, and fill the Twitter stream with snark. If that's your game plan, it might be better to stay at home. The alternative is looking for opportunities to positively engage. Listen and connect. Ask constructive questions. Ask yourself: How am I adding value? How am I getting everything out of this day that I can? How will I be remembered by the people I meet?
5. Take action now.
Conferences jam-packed with new content can be overwhelming. Take some time after the event to reflect on what you've learned and put together an action plan. How can you immediately act on the ideas you've heard? Think about how you can put three new ideas into practice in your own work over the next 100 days to have real impact. Share your action plan with a colleague and create some accountability. New ideas are important but what really counts is the execution after the event.
When you engage, participate, connect, share and learn, you're making an investment in your own development and growth — and as a byproduct you're improving the experience for everyone else attending the event. That moves you squarely into the Red Cape Club in my book. Thanks, AAGD, for the reminder!
Ryan Estis & Associates is a training and development organization helping companies, leaders, sales people and individual contributors embrace change and achieve breakthrough performance in the new economy. We offer keynotes, live classroom training and online learning that blends interaction, energy and actionable content designed to elevate performance. Contact us for programming inquiries and assistance determining the curriculum that could best support your learning and development objectives.