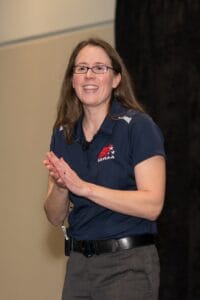 Once, associations were the go-to source for new information and best practices. Now, industry leaders have access to more information than ever before, and they expect more from their trade association. Associations face unprecedented competition for industry leaders' attention and time, and they're under pressure to deliver increasingly more value.
That's why I'm excited to share the innovation and growth that's going on at the Marine Retailers Association of the Americas, an association that gave me the opportunity to deliver the closing keynote at its annual conference in November.
MRAA's vibrancy and growth is powerful. The 2014 annual conference was one of the best-attended events in the association's history. And, in a time when many associations have been struggling just to maintain membership numbers, MRAA's membership has gone up 200 percent in the past three years.
I talked to MRAA Vice President Liz Walz about how her team has kept the association relevant and innovative even during times of big change.
4 Lessons Association Leaders Can Learn from MRAA's Success
1. Get new leaders involved.
MRAA's board of directors recognized that the boating industry was changing. Young leaders were in line to take over their family businesses, and new people were coming into the industry from the outside. Those new, younger industry leaders have different expectations about what an association should deliver.
To respond to this generational shift, MRAA started a Young Leaders Advisory Council in 2009. The association was looking for an infusion of new ideas from the next generation. The group of young leaders helps steer MRAA, making sure the association is serving the entire industry, not just the old guard.
The young leaders "have brought in a lot of new ideas and energy," Liz says. "In the past few years, the association has undergone a huge evolution. Forming that council was the beginning of a new openness to how the association could change. It's been the seed for the new growth we've seen."
Also a major contributor to growth: New association leadership. MRAA President Matt Gruhn was hired in 2011. Under his leadership, the association has grown from a two-person staff to a team of eleven, and MRAA has dramatically increased the benefits it offers members. "The increased value of membership has been a big part of our membership growth," Liz says.
2. Augment live events with online learning.
Customers are changing fast, and it's critical that trade associations help their members keep up. In almost every industry, there's a huge need for continuing education and learning.
"Associations used to be the exclusive source for information. Now, people get information from a lot of different sources," Liz says. So, the association has had to adapt to stay relevant and helpful.
Liz and MRAA President Matt Gruhn came to MRAA, having spent years working together at Boating Industry Magazine, an industry trade publication that now co-produces the MRAA's annual conference. The publishing world has been adapting to changes brought about by the Internet for the past decade, so when the duo came to work at MRAA, they saw a natural evolution toward offering more online content for members.
At the same time, MRAA is providing education to help members adapt to changes in where their customers turn for information.
"Salespeople need to be a guide for hyper-informed customers when they come into a dealership," Liz says. MRAA works with experts in areas such as content marketing, social media and in-person sales strategies to offer strategies and resources to dealers at its annual conference, its online research center and within its newest offering at MRAATraining.com.
Sales and marketing are just two of the educational topics featured in the association's new interactive virtual training system, an online portal where dealers can access virtual training from almost any digital device as their busy work schedules allow.
"Dealers can't bring every employee to the conference, so virtual training is a great way for them to bring back what they learned and share it with their entire team. Training is no longer an event that takes place once or twice or even a few times a year. It's an ongoing daily, weekly and monthly process that helps us keep up with our customers' and employees' changing needs."
3. Make live events a world-class experience.
But, while online learning is important, it doesn't diminish the importance of live events, where members can connect face to face and build relationships.
A lot of associations and event groups do post-event surveys to get attendee feedback. But MRAA goes above and beyond, developing every event based on members' feedback and expectations. When MRAA set a goal of growing its annual conference, leaders started by creating a committee of members to advise them on how to improve the event. They made one-on-one calls to dealers to understand their challenges and opportunities. Every year, they survey the dealer community to determine how their needs are evolving.
MRAA leaders ask for frequent feedback about the event — before, during and after the conference. That commitment to listening to dealers helped MRAA break attendance satisfaction and loyalty records at its 2014 annual conference.
I attend a lot of industry events, and I can vouch that at the MRAA conference, people were excited to be there. Instead of checking out to catch the early flight home, MRAA members engaged through the very last session of the conference. They were connected, contributing and eager to learn! That says a lot about the way MRAA designed and delivered the event.
4. Stay engaged and passionate about your industry.
The team at MRAA is passionate about their work and about the people in the industry. They care about the impact they can make on their members' businesses. Liz explains it this way: "I've realized over my career that work isn't about what you do, it's about who you do it with and for. I'm constantly inspired by the people in this industry. The best business advice I've ever received is 'Do what you love.' Work is such a big part of our lives, and it's a gift to be able to support your family doing something you're passionate about."
Loving what they do has helped the MRAA team make a positive impact on the industry. "I truly believe in the link between employee satisfaction and customer satisfaction," Liz says. "If you're happy going to work every day, you're going to give a better experience to the people you work with and serve."
Ryan Estis helps companies and individual contributors embrace change and achieve breakthrough performance. Each live event blends original research with compelling stories that move participants to take action. Ryan has 20 years of business experience working with the world's best brands to initiate change, inspire innovation and deliver growth. Learn more about Ryan Estis.